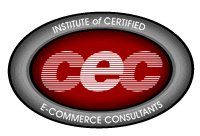 The CEC ™ is the Oldest Graduate Management Certification in E-Business
READ OUR
REQUIREMENTS
AND
APPLY
TODAY
The CEC ™ Certifications are available to those who meet our Accredited Graduate Requirements.
Education and Exams from an Accredited Program
Hold an Earned Degree from an Accredited Institution.
Experience in the Sector of Certification You are Applying for.
Agree to Our Ethical Requirements
Complete Annual Continuing Education.
Send Resume if you have an accredited degree and experience and tell us which certification you want to earn.
READ
REQUIREMENTS
AND
APPLY
TODAY